Dearest Kenya,
We need to talk. I have always loved you from the moment we set eyes on each other. It is you I always come back to every year in Africa. I come to you like a baby to suck at your breast for my own nourishment and well-being. You are the unconditional love I never could feel for the country of my birth. We met and I fell in love. Your love is addictive and real. I have travelled through you. I was never the tourist.
In your heart, I tried to discover the true me. Whether in Kisumu, Kikuyu, Nakuru, Limuru, Migori, Naivasha, Kagundo, Narok, Thika, Mombasa, Nairobi or wherever it is, I have always stayed in love with you. You are the food that I love, the people that I want, the weather that fits my body and you are the music that fills my soul.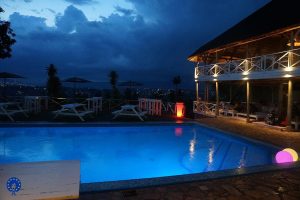 You were not the first African country I knew. And since we've met I have seen a lot more. But it is you I had/have the need to see. I have always been honest with you. Until now I was a monogamous admirer and lover of yours. But something happened this year that is going to change the status of our relationship. I met and fell in love with another! Meeting her does not diminish my love for you. It is just that I can no longer be monogamous. The love I feel for you is real and eternal but meeting this other one feels right too. It does not feel like I am cheating on you. It feels like I am being completed!
You see, I met Rwanda and it feels like the last piece of the puzzle fell in place. I somehow started falling in love with Kigali while flying into the country. And from the moment I got in, I just got drunk with love. You know I barely touch alcohol, but Kigali intoxicated me. Every day I spent there was like a day spent in a lover's arms; blissful, relaxing, fascinating, insatiable!
The cute airport with its super friendly and efficient immigration officers welcomed me. The free hotel airport pick-up shuttle surprised me. The inexplicable lack of hour-long traffic jams intrigued me. The night breeze embraced me. The Hawaii 5 "O" like welcome at Five to Five Hotel in Remera, Kigali elevated me.. The skyline that was so beautiful it was enchantingly mesmerising enticed me! All of these were just a prelude to a 3-day whirlwind love affair that swept me completely off my feet.
My dear Kenya, from the time I saw daylight the next day to my meeting the people, eating their food and admiring the thousands of hills in Kigali, I realised you would have to share our love from now on. Everywhere I went and looked, the view was stupendously breath-taking. Visiting the Kigali Genocide Memorial, the Belgian Peacekeepers Memorial and Presidential Palace Museum was a very sobering experience. Eating at the Tamu-Tamu restaurant in the Muslim neighbourhood of town was a delicious culinary discovery. You have to be there to taste Africa at its most delicious! My loving Kenya, I have tasted the night life at PiriPiri, at Sundown and at People club in Kigali. Oh what an unforgettable experience that was.
Dearest Kenya, I know you make great Nyama Choma but the tastiest Nyama Choma I have ever eaten is served at Sundown in Kigali! I have travelled the Kigali roads. Most of her roads are better than most European roads with the exception of the Dutch roads. I have been to its largest (Kimironko) market. Nothing compares to what I saw there. The only one that comes close to it, in terms of vivacity is the Serrekunda market but that is in The Gambia!
Dearest Kenya, you know I went to Zanzibar and it was the most beautiful place ever but that did not make me fall in love. You know I went to The Gambia and it was the safest place ever but I felt no love. You know I have been to Kampala with her music and the beautiful warmth but our relationship remained platonic. Tanzania was the same just like Benin and others. I am always more the content person than a cover person. That is why I have always loved you in spite of all your failings.
But Rwanda has won my heart too. I could go out at night without any fear. I could carry my camera (which is like my 4th son) around and know it was not going to be snatched. The people looked genuinely relaxed and welcoming. Some of the best conversations and jokes I've had in ages were with total strangers at the Kimironko market. Rwanda feels like a place I could live. It feels like a place that wants me to be happy.
My dear Kenya, I love you, but we have to really talk. Rwanda has made me polygamous. We are now in a love triangle! When I left Kigali, it felt like I left a piece of my heart there! I was emotional and sad! I missed the view, I missed the rain. Did I tell you I felt so relaxed I even went bare-chested to dance in the rain like I always did when I was a kid growing up in West Africa? You should have seen the stunned faces of the hotel personnel and guests. I am not sure they had seen anything like that before! I have a brief video recording of that. But that is for my private collection! It goes to show you how at home I felt in the arms of Rwanda.
I left with a tear in my eyes. But it was good coming back to you after I left Rwanda. Once I landed again at JKIA, I was reminded of why you will always be my first and greatest love. There is no one who can spoil me the way you did during my last 4 days with you.
I have fallen in love with Rwanda, I will continue to see Rwanda, but that does not diminish the love I feel for you. Kenya, you will always be the love of my life but Rwanda will now be my second wife. I hope you can live with that!
Forever yours!